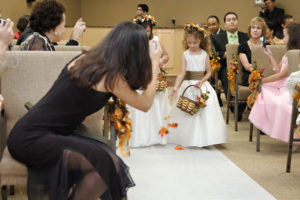 It may sound like an attention grabbing headline but it's very true, more and more at weddings we encounter guests ruining wedding photos and films by distracting the bride and groom, ruining intimate moments, or constantly in the background of the photographer's and videographer's lens just so they can get their shot! It has been on the rise for a few years now but it seems to have peaked in an onslaught between guests with cameras and the professionals you have hired. We were shooting a wedding this weekend and two of the guests were up at the alter, pushing us out of the way or getting in our way just to get their own shots! They also stood up and blocked our view from shooting down the aisle and their heads and bodies are in half of the ceremony shots. Since both of them were doing it all day we had warned them sternly about doing it during the ceremony, yet they did not seem to care. We finally asked them to please find their seats.
There usually isn't a problem when guests take pictures but when they get in the way of the professionals you hired it becomes a conflict. You hire a professional photo and film team because they have experience capturing weddings, this is their job.
Many times we now have to contend with 50-60 cell phones, even iPads being whipped out while you walk down the aisle and they are all in the shot. People lean in or even step into the aisle to get a "better shot" for themselves and often step right in front of our line of sight to you walking down the aisle. Think about this for a second. Do you want to see a bunch of cell phones in front of the faces of your friends in the background of your wedding pictures and video or just the faces of your friends taking in the special moments?  You want them to be there and share the moment with you – thats why you invited them – not to be on their cell phone, facebook, twitter, instagrap, or snapchat.
So what can you do to avoid the wedding guest flockarazzi from invading your wedding?
Well, there is no easy answer. For starters I would tell any known "shutterbugs" attending your wedding, to be respectful of the professional creative team. When you send out email updates or if you have your own wedding site, make an announcement stating that you hired a professional wedding photographer and videographer and to please be mindful of your professionals. Lastly, if you see one of your guests or family members in the way on wedding day, kindly ask them to refrain from being too obtrusive. They might hear you louder than they do us. Sometimes we say something to them directly and sometimes we just try to work around them but your photos and video will suffer for it if they continue to get in the way. You might even add a card to your invitations addressing the subject of photos and film.
Below is a sample of how you might word an email or a card sent in your invitations about guest taking pictures and videos at your wedding:
Dear Family and Friends, our wedding photos and video are very important to us. So important that we spent many hours finding an amazing professional photographer and videographer who we trust and have invested in to capture all our wedding day memories. We are asking that you refrain from taking pictures with your cameras, cell phones and any other devices during the most important parts of our wedding day. Since the ceremony is one of the most important parts to us, we ask that you do not take pictures or videos at all during the ceremony. Please engage and share in the moment with us and allow our creative team to capture the ceremony. You are free to take a zillion pictures during the reception but please just make sure to not be in the background of the photographers and videographers shots during our super important events such as the first dance, father daughter and mother son dance, toasts and cake cutting. These are iconic moments for us that we would love to cherish for the rest of our lives. Some of these moments organically only happen once and we don't want to lose the essence of that magic!  Thank you so much for respecting our wishes and we look forward to sharing our wedding day with all of you.
The above is there to give you a start and of course you may change the wording to meet your comfort level. This may seem like a harsh request or even taboo but if you do not take action for the sake of your wedding photos and film I guarantee at least one of the above mentioned wedding day faux pas will take place at your wedding.